A Word from Artistic Director
My background is classical ballet training so of course, I want to do traditional ballet pieces such as Sleeping Beauty, La Bayadere, Swan Lake, Esmeralda and so on.
However, I am Japanese so whatever I do is with Japanese spirit. I wanted to create a new ballet that I combine western style ballet with Japanese style.
From there, our company theme " Classical with a Japanese Twist" were born.
I want to share the fun from my childhood in Japan.
Going through a lot of narrow streets and climbing up small mountains and fishing at rivers. Children are running around and playing together outside using small Japanese toys around the wells, playing at the yard of shrines and temples.
I want to introduce some of the Japanese folktales which are beautiful, sometimes funny and interesting.
I started to make one-act ballet using folktales from Japan.
Folktales which always has life teaching behind the story. I think that this way of folktale writing is universal.
My way of choreography is inspired by music and also music will tell me what to do.
I found that It is so interesting to make one-act ballet.
I am so lucky to have my dancers who are all devoted to my dance.
Dance is very hard but we practice again and again many times with lots of detailed changes and corrections to make it better. It will change into real storytelling dancing.
I hope that you will come to see our next performance.
Misako Aoki
We are Seeking Male and Female dancers!
Misako Ballet Company will hold an audition for experienced ballet dancers, age 18 and older, on Saturday, September 21, 2019 from 10:45 a.m. - 12:30 p.m. Female dancers should bring pointe shoes.
Misako Ballet Company is a professional, non-profit organization that creates classical ballet and Japanese-themed performances to bring joy to the community - "classical ballet with a Japanese twist".
In addition to a variety of dance opportunities throughout the year, Misako Ballet Company is preparing for its February 16, 2020 Dance Concert, Moon Princess and Other Selections. Moon Princess will be a story ballet based on a Japanese folk tale, to be choreographed on the company dancers by artistic director Misako Aoki. The company will also dance excerpts from a selected ballet.
Audition will be held at Misako Ballet Studio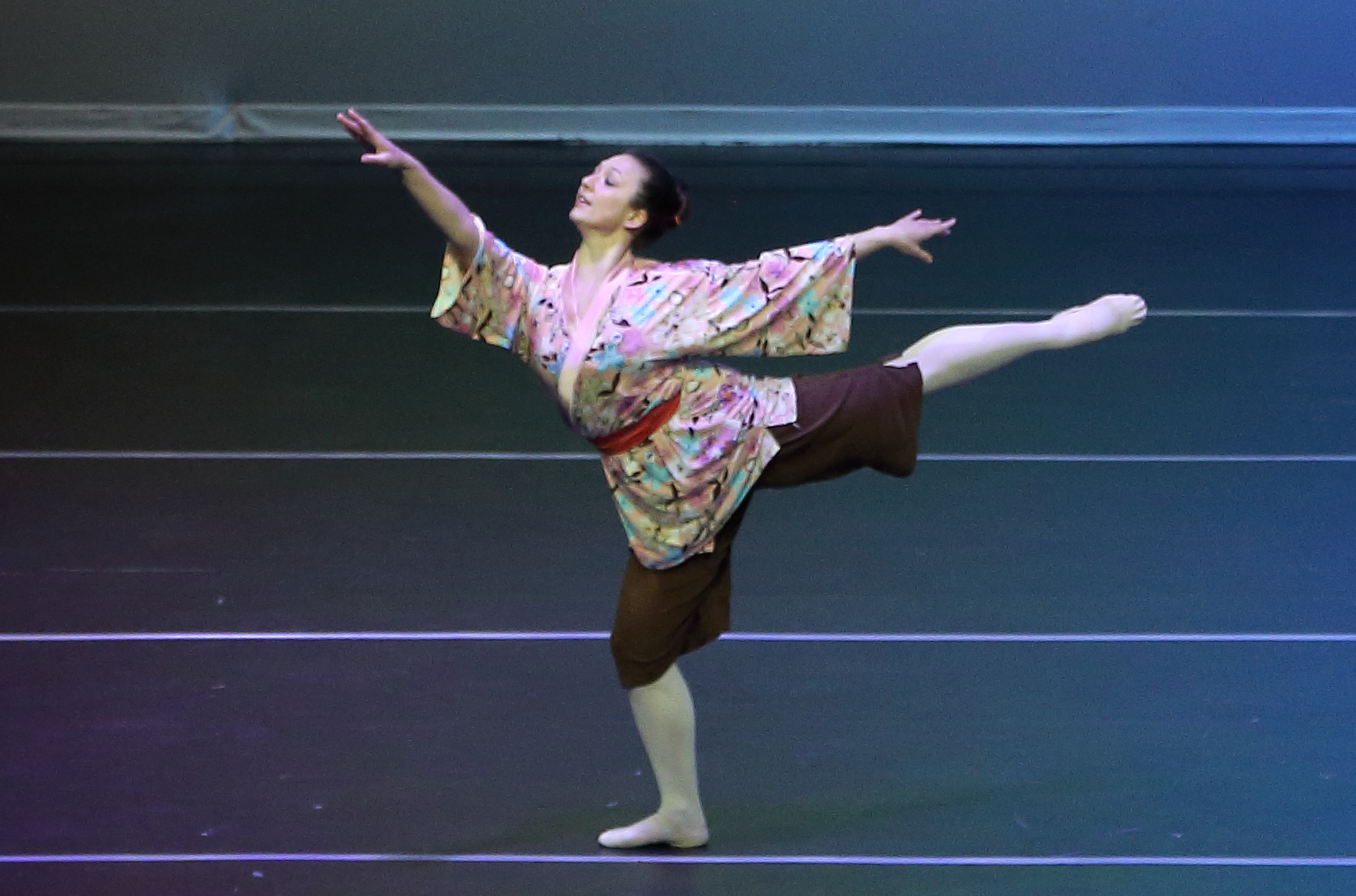 Ms. Misako Aoki is the recipient for the Howard County Arts Council's FY 2019 Mark Ryder Original Choreography Grant!
We are incredibly honored to announce that out Artistic Director Misako Aoki has been awarded the 2019 Mark Ryder Original Choreography Grant from Howard County Arts Council.
.
This grant program was established to "recognize individual creative expression and to provide financial assistance to choreographers to create a new work and to broaden opportunities for artists and encourage and sustain their pursuit of artistic excellence.".
Mr. Ryder was an established mover and leader in the community, dancing alongside Martha Graham in the 1940s and serving as the Dance Department Chair at University of Maryland before retirement.
.
We are incredibly grateful for this opportunity and join us in congratulating Misako Aoki!

Mission Statement:
Misako Ballet Company creates classical ballet and Japanese-themed performances to bring joy to our community.
Misako Aoki, Artistic Director began her dance training in Japan and later at the Royal Ballet School in London. From there she joined the Matsuyama Ballet Company, one of the major companies in Japan. With them she performed in Europe and China with Rudolf Nureyev. After moving to the United States, Misako founded her own studio and taught at Towson and UMBC. She was also a rehearsal assistant for the Moscow's Ballet Nutcracker and the Washington Ballet's Nutcracker at the Hippodrome. Misako is the Artistic Director of Misako Ballet Company (a non-profit, professional dance company). She has served as a scholarship review panelist for Howard County Arts Council for several years and as a Dance panelist at Maryland State Arts Council in 2015. Ms. Misako Aoki is the recipient for the Howard County Arts Council's FY 2019 Mark Ryder Original Choreography Grant.
Melissa Lineburg is celebrating her 6th season with Misako Ballet Company. She began training at a local dance studio in Charles Town, WV, and continued her training under the direction ofJoyce Morrison at the Frederick School of Classical Ballet. Melissa received a B.F.A. in Dance Performance: Ballet from Radford University in 2011. In addition to performing with Misako Ballet Company, she also creates and performs with Agora Dance, Connect the Dots Dance Company, and Metropolitan Ballet Ensemble. Ms. Lineburg has danced at the John F. Kennedy Performing Arts Center accompanied by the National Symphony Orchestra. Melissa works as the Database Manager at Dance/USA in Washington, DC and has returned to school to obtain a Masters of Science in Nutrition from the University of Bridgeport.
Jessica Markiewicz received her early training with Barbara Willis at the Carter School of Dance, and continued her training at the Ballet Royale Institute of Maryland under Vyacheslav Mesropov. Ms. Markiewicz has attended summer programs at The Washington School of Ballet, the Kirov Academy in Washington D.C., and American Ballet Theater. She has also received her Cecchetti Intermediate certificate. Jessica graduated with a B.A. in Dance from Goucher College, and also has an M.A. in Dance Education with a concentration in ABT Ballet Pedagogy from New York University. She has been a member of Misako Ballet Company since 2007, and currently teaches dance in AACPS.
Amanda Willingham started her dance training at Ballet Royale Academy under Donna Pidel and later with Vyacheslav Mesropov.
In 2004, she moved to Misako Ballet Studio under the instruction of Misako Aoki, and danced with Kevin Malone in his KTM Extremes project. During summers, she attended intensives at various places such as North Carolina School of the Arts and Dance Institute of Washington. She joined Misako Ballet Company as an apprentice in 2008 and was promoted to company member in 2011. In December 2015, she received a Master's of Science in Applied and I ndustrial
Mathematics from Towson University. She currently works for T Rowe Price as a Quantitative Analyst.
Jessica McElvaney received her early training at MgM Dance Studio, Falls Road Dance Studio, and the Baltimore Actors' Theatre Academy. She continued her training at UMBC and graduated with a B.A. in Dance, a B.A. in Modern Languages and Linguistics, and an M.A. in Instructional Systems Development. She joined Misako Ballet Company in 2007 and has been teaching at Misako Ballet Studio since 2004.
Amber Hodak started dancing at the age of 5. When she moved to Maryland at age 9, she continued her training at Misako Ballet Studio. She has been involved in multiple companies and programs such as the Pre- Collegiate Summer Intensive at TU, Maryland State Council of Dance, Regionals in Norfolk, Virginia, Moscow Ballet's Nutcracker, Chesapeake Ballet, Old Mill Middle North Dance Company, Old Mill High School Dance Company, Anne Arundel County Dance Ensemble, and Anne Arundel Community College Dance Company. She received the Maryland State Dancer award in 2013, 2014, and 2015. Currently she is studying at Towson University.
Carey Ballinger began her ballet training at the age of four at the Ballet Theatre of Annapolis (BTA). She became a junior company member with BTA under the directorship of Edward Stewart. Carey graduated with a BFA degree in Dance from Jacksonville University. While in Jacksonville, she danced and choreographed with the Jacksonville University Dance Theatre and danced professionally as an Ensemble Member with the Florida Ballet. She has also trained with the Richmond Ballet, the Orlando Ballet, the Princeton Ballet, and the Charleston Ballet Theatre. Carey has taught at the Ballet Theatre of Maryland School and Misako Ballet Studio. Carey joined Misako Ballet Company in 2009 and enjoys performing with the company.
Cecilia Ituarte has over 17 years of experience as a dance teacher. As a dancer she has enjoyed performances in Mexico, Peru and the U.S. with the companies "Mexico en Movimiento", "Audanza" and "Momentum Danza Mexico". She has also designed choreographies for her students. Cecilia holds an Associate Diploma in Ballet teaching and Advanced II degree in Modern Dance Theatre from the Imperial Society of Teachers of Dancing (ISTD); and graduated in Classical Ballet from the Royal Academy of Dance (RAD). She is also a professional graphic designer.
Carlos Miguel Ledesma was born and raised in Carroll County Maryland and dance with Savage Dance Company in the competitive circuit for 12 years. While at Savage Dance Company he was trained in a variety of dance disciplines had the privilege of work with a many of artist such as Zane Booker, Rasta Thomas, Nick Gonzalez, and Tim Roberts. Carlos Miguel has done work for Adidas, USDA, USA Today/ Gannet Co. and the DC. Bridal Show. He has received numerous choreography awards within the national dance competition circuit. He is currently dancing at Howard Community College and will be transferring in the spring of 2017 to another institution to pursue higher education in dance. This is his first time dancing with Misako Ballet Company.